BOOK 1 – The Rise of Riverstone
She was forced to watch her world burn.
They should have killed her when they had the chance.
Praed is a country of vast prairies and looming mountains where the elite make their homes along a mighty river. For hundreds of years, to wear the crown is to tempt fate, for in Praed, any man may become king if he's strong enough.
Laria Audrey lives in privilege as the daughter of a famous knight, until one night she's ripped from her bed to find that her entire life has gone up in flames. Forced to serve those responsible, Laria pretends to be deaf and mute to survive. But when days turn to weeks, Laria loses hope of awakening from the nightmare and must admit she's truly alone.
When her sworn enemy approaches her with a shocking proposition, Laria must decide if she'll resign herself to misery or become the hero she never believed she could be.
CW: This book contains references to sexual assault and r*pe. Contains depictions of animal death, physical and emotional abuse, forced servitude, pregnancy, and miscarriage.  
What Reviewers are Saying:
"An amazing start to a new fantasy series – I am ready for the next!"

~ 5 star review
"This was a great start to this series! It's very aesthetic and detailed, the plot was captivating and kept you glued to the pages."

~ 5 star review
"From the first page I was drawn in with Mandy's beautiful writing style and I was hard pressed to put the book down for the night."

~ 5 star review
"An absolutely amazing debut that you will be thinking about long after it's over. Strong female, tragedy, and enemies to friends…How can you go wrong? I'm extremely surprised that this is Mandy's debut – the writing style flows beautifully. Her world building is atmospheric and puts you right into the world she's created."

~ 4 star review
"I love reading tales of heroic women who clear their path and do the good, they give me chills and make me feel like I'm one them too. This is basically the first book in the series and I remember reading this book when I was personally having a rough time in my life, this is truly the most interesting and well written fiction I read that was also very uplifting. I not just enjoyed it, I actually lived the story."

~ 5 star review
"It's a whole new world you're entering when you're picking this book. A world that's a little harsh and so well built. If you are into dark fantasy and dark dystopian novels you will enjoy this book for sure and so did I. A story that will remind you of the epic historical tales of struggle and imprisoning of Kings and Queens and snatching their thrones, you got me now, it exactly has that dark ruling class vibe which is built so well."

~ 4 star review
Meet Historical Fantasy Author
Mandy Schimelpfenig
Mandy received her B.S. in Zoology from Washington State University and an A.S. in Veterinary Technology from St. Petersburg College. Clearly her life goals were not geared toward a career as an author. She is a Certified Veterinary Technician specializing in small animals. When she's not saving lives, she's weaving tales of strong women using their intelligence to pursue incandescent happy endings. The Rise of Riverstone is the debut novel in her Daughters of Riverstone Series. She lives on the Washington Coast with her husband and their four children. Besides leaning uncomfortably over a computer screen, Mandy enjoys camping and hiking with her family, reading, and wearing out her dogs on the beach.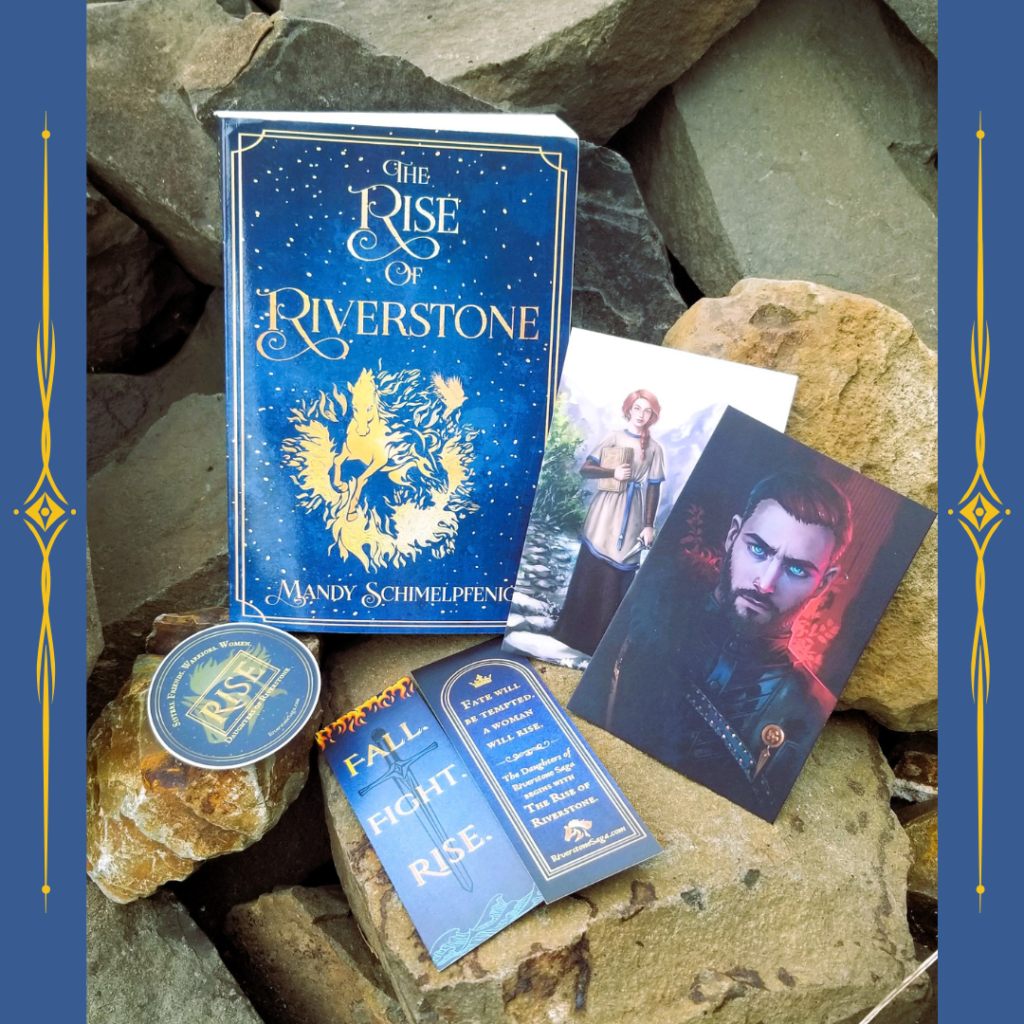 Join The Fight!
Orders Shipped in Exclusive Gift Boxes!